Non-Exploding Hand Grenade

Origin

Unknown

Type

Grenade

Effects

Grenade returns to thrower, fails to explode and induces debilitating guilt for participation in war.

Downsides

None

Activation

Thrown

Collected by

Warehouse 13 Agents

Section

Aisle

2810202-89929

Shelf

89929-1942-005

Date of Collection

1971

[Source]
Hand grenades are old weapons, possibly used by the Byzantine Empire during the mid-700s, and mentioned by the Chinese during the time of the Song Dynasty. The modern hand grenade wasn't created until the early 1900s, where it went through some modern developments, most notably the safety features which keep the grenade from accidentally exploding.
It was seen in season 4 of Warehouse 13 (see below).
When thrown, the grenade fails to explode. It subsequently returns to the user, who experiences overwhelming guilt for participation in war, even if the user never participated in war in any manner.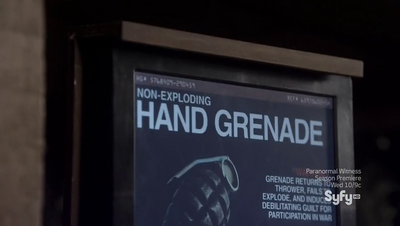 Appearances in the Show
Edit