Michael P. Murphy's Tactical Radio
Tactical Radio imbued with the high emotions of his final act

Origin

Lt. Michael Patrick Murphy

Type

Tactical Military Radio

Effects

Allows user to null Fear and Pain; Also allows them to enter into Flight or Fight mode instantaneously

Downsides

Inflects growing gun shot like wounds upon the abdomen

Activation

Turning knob on top/Touching

Collected by

Section

Aisle

28D-04A

Shelf

4863-1995-214

Date of Collection

Jun.02.2011

[Source]
Kunar Province, Afghanstan
Edit
LT Murphy was killed June 28, 2005 after exposing himself to enemy fire and knowingly leaving his position of cover to get a clear signal with headquarters. He provided his unit's location and requested immediate support for his element and then returned to his position to continue fighting until he died from his wounds.
The Radio he used was imbued with the high emotions of that event.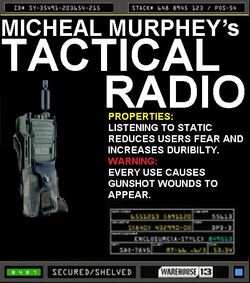 Community content is available under
CC-BY-SA
unless otherwise noted.