Margaret Mitchell's Manila Envelopes

Origin

Margaret Mitchell

Type

Manila Envelopes

Effects

Enhances the quality of anything placed inside

Downsides

The user wants to hide said object from all

Activation

Placing in a small object

Collected by

Wrehouse 13

Section

Aisle

91863-8086

Shelf

48694-2943-594

Date of Collection

October 27, 1978

[Source]
Margaret Mitchell was an author and journalist best remembered today for her Civil War romance, Gone with the Wind. When writing it, she wrote the first chapter, then the last, then whatever she wanted to in random order. When guests would come over to her house, she would tuck the chapters into the envelopes and hide them someplace like  her bed, the closet or under the floorboards.
When something is placed within the envelope, whether it's a resume or a candy bar, the quality of it is increased. The object needs to be small enough to fit in the envelope, and any tears in the envelope will weaken the effects. Also, the original user will subsequently try to hide the object from everyone else, no matter how fantastic it has become.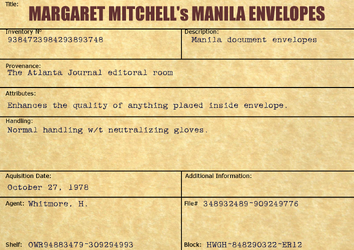 Community content is available under
CC-BY-SA
unless otherwise noted.