Lloyd Loar's Mandolin

Origin

Lloyd Loar

Type

Mandolin

Effects

Causes those who play it to permanently lose grasp on reality.

Downsides

Effects

Activation

Playing

Collected by

Warehouse 13 Agents

Section

Aisle

Podium 50

Date of Collection

September 16, 1943

[Source]
Lloyd Allayre Loar (January 9, 1886 - September 14, 1943) was a Gibson sound engineer and a master luthier. He is a well-regarded musician on the mandolin, viola, and musical saw. See here for Loar's full life story
Anyone who plays the Mandolin will permanently lose grasp on reality. The effects become permanent within a few minutes of playing. Hearing the music played has no effect on the listeners.
Agents have noted that the artifact sometimes plays softly when neared, as if attempting to hide its true nature.
Stored on a normal Dark Vault podium.
Neutralizer gloves are mandatory. High emotions can trigger the Mandolin to play. Neutralize quickly if this occurs, as the effects can affect surrounding agents if left alone.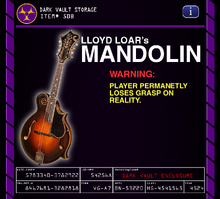 Community content is available under
CC-BY-SA
unless otherwise noted.