Lee Harvey Oswald's Rifle

Origin

Lee Harvey Oswald/JFK Assassination

Type

Carcano Rifle

Effects

Bullets can move through wormholes while in motion

Downsides

None

Activation

Firing

Collected by

Section

Aisle

20638-7289

Shelf

19801-5105-958

Date of Collection

December 19, 1963

[Source]
Lee Harvey Oswald was the gunman who, on November 22 1963, shot and killed the United States president John F. Kennedy. This made Kennedy the fourth president to be assassinated while in office and made Oswald one of America's most reviled criminals.
Due to the high-profile nature of the event, several conspiracy theories have emerged. These range from CIA cover-ups to more absurd notions such as demonic possesion. One in particular postulates the theory of multiple gunmen being present due to several consectutive gunshots heard at the time.
The true origins of the artifact are unknown, as it clearly had artifact qualities when it was in Oswald's hands. Possible theories include Lee discovering the artifact and using it or, more likely, it became an artifact the second the attempt was made on President Kennedy's life.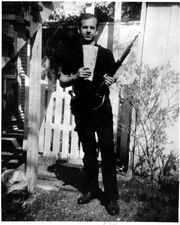 When fired, the wielder has the ability to cause the bullet to rip a hole in the fabric of space, allowing it to teleport. Wih this power, one bullet is capable of striking from several different angles before impact. Each time it teleports, another gunshot can be heard and it can move a total of four times.
Community content is available under
CC-BY-SA
unless otherwise noted.