James Buzzanell's Survey Books

Origin

James Buzzanell

Type

Seven one-subject notebooks

Effects

Makes readers more inquisitive of the opinions of those around them

Downsides

User will experience bouts of hyperactivity

Activation

Reading

Collected by

Arthur Neilson

Section

Aisle

Athena-3021

Shelf

23524-9070-439

Date of Collection

May 22, 2014

[Source]
The origins of this artifact are unclear, though records indicate that a student of the same name graduated from [REDACTED] High School in 2014. According to the teachers, the student did these surveys daily, using these notebooks to hold all of the surveys over the four years of high school. The surveys asked ranged from political and social questions down to the random and strange.
Reading a notebook increases the curiosity of their surrounding classmates, coworkers and friends. Many assembled will feel the need to write down every opinion stated for future reference. The reader will become more hyperactive and prone to running around balancing large mounds of books.
Collection
Edit
Collected from a high school near Pittsburgh, Pennsylvania in May 2014. The Warehouse received a ping about a several students behaving in a hyperactive manner after visiting one of the classrooms in the school. Artie went to investigate, finding these notebooks in the room. While no one was looking, he made a replica of the notebooks and snagged the artifacts.
Handling Requirements
Edit
Neutralizer gloves and goggles are mandatory. DO NOT READ WITHOUT GOGGLES.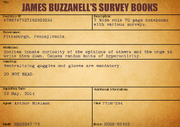 Community content is available under
CC-BY-SA
unless otherwise noted.