Henry VIII's Belt

Origin

Henry VIII

Type

Belt

Effects

Will expand their waistline and give them an insatiable hunger.

Downsides

They will keep eating and getting larger until they can no longer move.

Activation

Wearing

Collected by

ToaCodyNuva

Section

Aisle

48663-9512

Shelf

71085-9614-553

Date of Collection

1768

[Source]
Henry VIII was an Englishman who came to power during the War of Roses to eventually become king of England during the Tudor dynasty. He is best remembered for having six wives, although this is actually a common misconception. He more likely had two real marriages, without them being annulled or anything like that. Also, he separated the Church of England from the Roman Catholic Church, becoming excommunicated by the Pope.
He also made an ally of the Holy Roman Empire to invade French lands. However, the empire would only give so much support until they would decide to stop helping him, possibly involving Warehouse regents of the time. Henry dabbled in many different things besides leading England, like music and hunting. He has been portrayed well by his contemporaries but not as well by modern historians. Later in life he became obese, with a waistline the size of 54 inches.
This belt was made specifically for Henry VIII shortly after he took the throne. It was designed to stretch in response to his rapidly expanding waistline. He wore it so much that it became imbued with his gluttony. Anyone who wears the belt will find the urge to gorge themselves on food without stopping. Because of the belt's "elastic" properties, the affected person will continue to engorge themselves until they are unable to move, and even then they will still try to find more food to eat.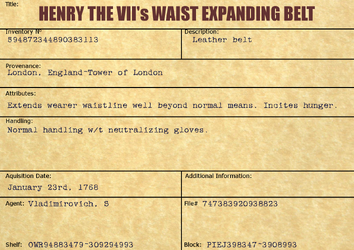 Community content is available under
CC-BY-SA
unless otherwise noted.