Harrison D. McFaddin's Emeralite Lamps

Origin

Harrison D. McFaddin

Type

Double-sided Emeralite lamps

Effects

Reading under their light enhances concentration, induces calm, and lessens eyestrain.

Downsides

None

Activation

Constantly active/publishing a book

Collected by

Warehouse 13

Section

Aisle

N/A

Shelf

N/A

Date of Collection

April 18, 1915

[Source]
The banker's lamp (or Emeralite) is an iconic style of electric table lamp characterised by a brass stand, green glass lamp shade and pull-chain switch (though modern versions may make use of alternate switch types). The first patent for a banker's lamp was filed on 11 May 1909 by Harrison D. McFaddin and were produced and sold under the brand name Emeralite ("emerald" and "light").
Green was commonly used for lights and eyeshades for vision-intensive jobs such as telegraphers and copy editors as it can lessen eyestrain, and can also help with concentration and calm focus. For these reasons they are commonly used in libraries.
When on, the light from these lamps will help readers reman calm and focused, and will help reduce strain on the eyes.
The double-sides lamps are kept on tables throughout the Warehouse Library to help agents who want or need to read for long periods of time while simultaneously reducing the common psychological effects induced by the artifacts within that section.
Artifact Math
Edit
These lamps are used to reduce the downsides of Thomas Phillipps' Bookcases, Melvil Dewey's Filing Cabinet, and St. Wiborada's Book Binding Thread.
They were seen in the episode "The Big Snag" while Pete and Myka were going after errant static balls in the Library Section.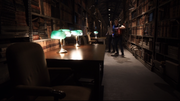 Community content is available under
CC-BY-SA
unless otherwise noted.