Emanuel Snowman's Fabergé Egg
The Rosebud Faberge Egg

Origin

Emanuel Snowman

Type

Fabergé Egg

Effects

Increases artisan skills

Downsides

None Identified

Activation

Touch

Collected by

Agent G. Demall

Section

Aisle

474863-6987

Shelf

217574-4451-964

Date of Collection

June 5, 1943

[Source]
Emanuel Snowman (25 January 1886 – 27 February 1970) was a British jeweler, local politician and Jewish community leader who oversaw the opening of the London branch of the Welsh jewelers Wartski. He made regular visits to Russia and established contacts for works of art and jewelry. His relationships allowed him to gain possession of nine Fabergé Eggs, which the Soviets sold to raise capital after the political rearrangements of the Russian Revolution.
The user's craftsmanship and quality of work will be greatly improved, along with newfound skills in the fine arts.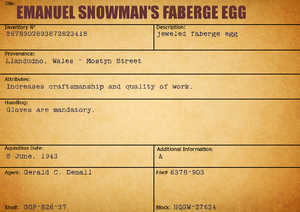 Community content is available under
CC-BY-SA
unless otherwise noted.