Elephant Candle Holders

Origin

Unknown

Type

Ceramic Candle Holders

Effects

Candlelight causes extreme pressure on exposed persons

Downsides

Effects

Activation

Holding lit candles

Collected by

Ronald J. Wiles

Section

Aisle

4567-998

Shelf

5434-5689-9095

Date of Collection

19th July, 2012

[Source]
Origin unknown, these elephant inspired ceramic candle holders were recovered from Evansville, Indiana.
When lit candles are placed in both of the holders, persons exposed to the light will feel the weight of an elephant pressing down on them. This increased mass restricts movement and may cause severe harm if left unchecked. To disable the effects,the candles must be snuffed, broken and the holders placed end-to-end.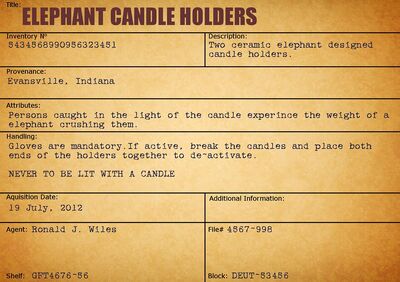 Community content is available under
CC-BY-SA
unless otherwise noted.