Dragon-Fire Locket

Origin

Unknown

Type

Silver Locket

Effects

Grants pyrokinesis

Downsides

Causes pyromaniacal tendencies and eventual combustion

Activation

Opening locket

Collected by

Section

Aisle

IJEH-82764

Shelf

STW7362-98

Date of Collection

13th September

[Source]
Origin
Origin unknown, it was collected in Hillsborough, a parish in County Down, Northern Ireland. The year of collection was never recorded.
The locket is in the shape of a coiled wyrm with a small orange gem for the eyes.
Effects
When the locket is opened, the holder is granted the ability of pyrokinesis, or the power to create and control fire. However, the more the locket is used, the more obsessed the user becomes with fire. This can lead to pyromaniac-like tendencies and madness. Overuse will also cause the user to eventually spontaneously combust.
Collection
Collected in 2013 by Agent Nathan W. R. Walker.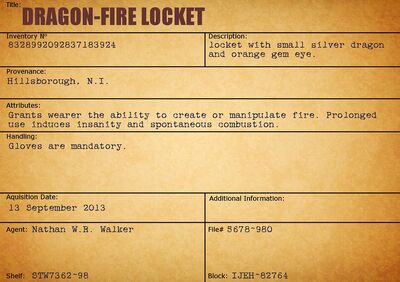 Community content is available under
CC-BY-SA
unless otherwise noted.