Chicago City Key Chain

Origin

Marc Schoeneman

Type

Key Chain Trinket

Effects

Grants eidetic memory, the ability to recall life events

Downsides

Causes crippling social anxiety

Activation

Contact

Collected by

Claudia Donovan

Section

Aisle

SETR-86049

Shelf

TUR7648-21

Date of Collection

18th July, 2013

[Source]
This artifact came into being while in the possetion of Marc Schoeneman, a resident of Schaumburg, Illinois. He was unaware of its presence and did not know the exact circumstances of its creation.
The owner of the key chain is granted an eidedic memory. This allows them to perfectly recall any event they have seen, heard, smelt or otherwise experienced in their life.The effects only last as long as the key chain is in their possetion, and memory returns to normal capacity when it is relinquished. The downside of this amazing memory is a crippling social phobia caused by overwheling anxiety. The long-term effects of the downside may take longer to subside.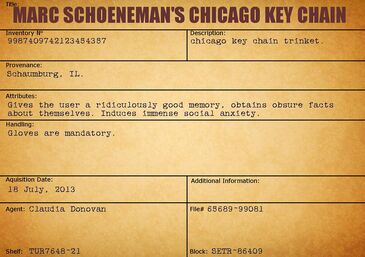 Community content is available under
CC-BY-SA
unless otherwise noted.