Charles Douglass' Laff Box

Origin

Charles Douglass

Type

Mechanical Playing Device

Effects

Uncontrollable laughing

Downsides

Complete Vocal Transferal

Activation

Turning on and proximity to comedy

Collected by

Warehouse 13

Section

Aisle

569898-3814

Shelf

780755-7896-208

Date of Collection

May 18, 2017

[Source]
Charles Douglass is regarded as the father of the modern laugh track. Before television became popular, a live audience would be used to laugh at jokes. However, this became impractical when they proved unreliable for snickering at the right times or length. So, Douglass began enhancing live reactions with pre-recorded chuckles to get the effect studios wanted. When the industry began to take off with sitcoms, Douglass transitioned to manufacturing laugh tracks to ensure all the comedic portions would succeed without a hitch. He maintained great secrecy during his experimentation, taking samples with test audiences but never letting producers in on the secret.
The fabled "laff box" became highly sought after by industry junkies until it was unveiled on Antiques Roadshow. Similar to a typewriter, it could produce any combination of 320 different laughs, from little giggles to wholesome belly laughs.
When something considered comedic occurs, such as a corny joke or hilarious accident, every person within the box's auditory range will laugh uncontrollably. After several consecutive turns, they will soon realize they have totally switched voices with somebody else.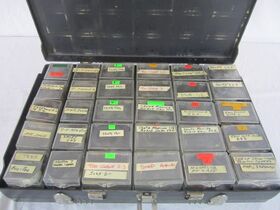 Community content is available under
CC-BY-SA
unless otherwise noted.