Capt. Snow's Gauntlet
Captain snow, showing the gauntlet off

Origin

Archipelago fandom

Type

Replica

Effects

Soul Channeling/theft

Downsides

User develops the Captain's ability and desire for medically precise torture.

Activation

Wearing and pointing

Collected by

Unknown

Section

89165-952-34

Aisle

Shelf

1025-367-23

Date of Collection

May 1, 2014

[Source]
Archipelago's comic fandom helped bring this cosplay artifact to a terrifying life.
Abilities
Edit
This gauntlet can extract up to six souls from people (adding another soul will cause the first soul extracted to be released. The person or people whose souls have been removed will be as mindless husks, obeying the one who holds the gauntlet's every whim.
However, the wearer steadily develops a love of torture-the more creative the better-and the medical knowledge to keep the unfortunate victim alive while doing said torture.
Collection
Edit
Agent Taylor tracked this object down and managed to subdue the user. Upon collecting it, he called the police.
This gauntlet, in the comic, existed in both the physical and metaphysical worlds. To be destroyed, it had to be destroyed in both worlds at the same time, or it would just teleport away and reappear on the bearer.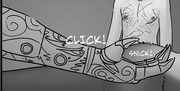 Community content is available under
CC-BY-SA
unless otherwise noted.