Bull Summoning China Cabinet
"Bull in a china shop"

Origin

Uncertain

Type

China Cabinet

Effects

Owners of cabinet are constantly subjected to being terrorized by a raging phantom bull. Can also summon real bulls

Downsides

Effect(s)

Activation

Physical interaction/ownership

Collected by

Nick Renson

Section

Aisle

356-9365

Shelf

4492-639-6324

Date of Collection

March 28, 2014

[Source]
Creates phantom bulls to attack owner of china cabinet. It can summon real bulls if one or many are in the area.
The artifact is presumed to either be the origin, or a result of the phrase "Bull in a china shop". It should be noted that the phantom bull created by the cabinet is unable to interact with living creatures.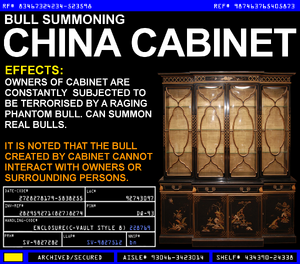 Community content is available under
CC-BY-SA
unless otherwise noted.