Arthur Wellesley's Boots
Worn by the Duke of Wellington during the Battle of Waterloo

Origin

Arthur Wellesley, 1st Duke of Wellington

Type

Black Boots

Effects

Wearing boots allows wearer to become a "one man army" by creating replications of wearer

Downsides

User contacts an iron like infection that develops after prolonged exposure. After so long users molecular structure will revert to iron.

Activation

Wearing

Collected by

Nick Renson, Claudia Donovan & Artie Nielson.

Section

Aisle

28D-01A

Shelf

34-434-3332

Date of Collection

Feb.11.2013

[Source]
History of Owner
Edit
Arthur Wellesley, 1st Duke of Wellington, (1 May 1769[– 14 September 1852), was a British soldier and statesman, a native of ireland from the Anglo-Irish Asecendancy, and one of the leading military and political figures of the 19th century. 
He was ofen called The Iron Duke. This commonly used nickname originally related to his consistent political resolve rather than to any particular incident. In various cases its editorial use appears to be disparaging. It is likely that its use became more widespread after an incident in 1832 in which he installed metal shutters to prevent rioters breaking windows at Apsley House.
Collection

Edit
This artifact was collected by Nick Renson, Claudia Donovan and Artie Nielson in New York City. When a young rebellious teen was wanting to take over his school because of a couple of bullies picking on him, mostly because of his small stature.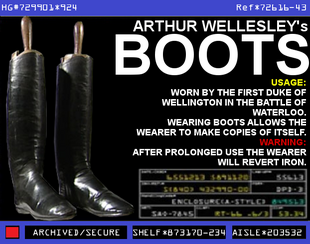 Community content is available under
CC-BY-SA
unless otherwise noted.