Angela Cavallo's Car Fender
Driver's side inner fender panel

Origin

Angela Cavallo

Type

1964s Chevrolet Impala Car Fender

Effects

Increases the user's adrenaline levels and physical strength in times of great stress and peril for those they care for.

Activation

Interaction/peril

Collected by

Section

Aisle

83874-20944

Shelf

92834-02921

Date of Collection

8/4/14

[Source]
In 1982, in Lawrenceville, Georgia, Tony Cavallo was repairing a 1964 Chevrolet Impala automobile from underneath. The vehicle was propped up with jacks, but it fell. Cavallo's mother, Mrs. Angela Cavallo, lifted the car high enough and long enough for two neighbours to replace the jacks and pull Tony from beneath the car.
Her strength is credited to "hysterical strength", or superhuman strength, is a display of extreme strength by humans, beyond what is believed to be normal, usually occurring when people are in life and death situations. Common anecdotal examples are of mothers lifting vehicles to rescue their children. The extra strength is believed to come from adrenalin, though incidents are rare, unrepeatable, with no examinable evidence and few witnesses; research into the phenomenon is difficult, though it is thought that it is theoretically possible.
The Report
Edit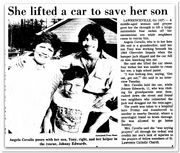 "A middle-aged woman said prayer gave her the strength to lift a large automobile four inches off her unconscious son while neighbors came to rescue him. Angela Cavallo, who is in her late 50s and is a grandmother, said her son Tony was working beneath his 1964 Chevrolet Impala when the bumper jack slipped and the car fell on him, knocking him out. She said she lifted the car about four inches but was unable to rouse her son, a high school junior. "'I was kicking him, saying, 'Get out, get out,''" she said in an interview Tuesday. Mrs. Cavallo held the car, while Johnny Edward, 11, who was visiting his grandparents next door, rushed down the street and found two neighbors who reinserted the jack and dragged out the teen-ager.The youth was taken to a hospital here Friday and transferred to another in nearby Decatur, where a neurologist found no brain damage. He was allowed to go home Sunday. Mrs. Cavallo said she "was saying prayers" all through the ordeal and credits her son's lack of injuries to the prayers of fellow members of St. Lawrence Catholic Church."
Increases the user's adrenaline levels and physical strength in times of great stress and peril for those they care.
Community content is available under
CC-BY-SA
unless otherwise noted.