Amenemhat III's Sistrum

Origin

Pharaoh Amenemhat III

Type

Sistrum (Ancient Instrument)

Effects

Forcefully creates canals

Downsides

Leaves area in devastation, due to earth manipulation

Activation

Shaking around bodies of water

Collected by

Warehouse 2 Regents

Section

Aisle

348723-329384

Shelf

40329-23189-231598

Date of Collection

Era of Warehouse 2

[Source]
Originally used by Amenemhat the Third who was a pharaoh of the Twelfth Dynasty of Egypt. It was imbued with the power forcefully create canals.
If the sistrum is shaken around a large body of water or a lake, the artifact sends out vibrations that crack and push apart the earth to make a canal.
The sistrum must be shaken every few months or it will start cracking the ground around the aisle. It must be shaken for exactly twelve seconds.
This artifact was collected during the time of Warehouse 2 and was recovered after it's reactivation.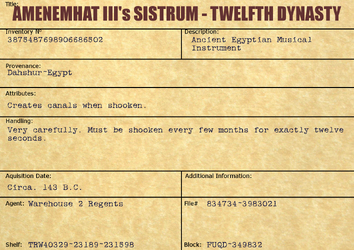 Community content is available under
CC-BY-SA
unless otherwise noted.