Aguara's Comb
"The closest we will ever get to having a God of Chocolate!" - Mary

Origin

Blessing of Aguara

Type

Blessed Carob Bar

Effects

Allows user to change into a fox at will

Downsides

User can only speak Native American Languages

Activation

Eating

Collected by

Consultant Mary Melinoe and Agent Aden Taylor

Section

Aisle

Cherokee-1278

Shelf

88812-1278-012

Date of Collection

Unknown

[Source]
Appearance
A bar of carob.
Creation
Blessed by Aguara, the fox god.
Collection
Consultant Mary Melinoe discovered the artifact after eating a square of it, which caused her to immediately turn into a fox. She would have succumbed to the form, had Agent Aden Taylor not shifted to his raven form and talked her through it.
Abilities
Eating a square causes the user to transform into a fox until the piece has been digested. Afterward, the ability will be fused to the eater's bloodstream, allowing for voluntary transformation at any time.
Like with the raven feather, the person can only speak in Native American languages while in the fox form.
Connections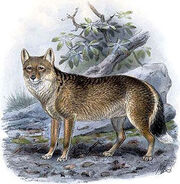 Aguara, the Native American fox-god, is known for giving humans the carob tree, out of which this vegan chocolate is made.