Unexplained iMac

Origin

Apple Computers, 1999

Type

Apple iMac G3

Effects

None. Basic iMac functions.

Activation

No artifact qualities.

Collected by

Philo Farnsworth and Buck Mendell

Section

65839-20393

Aisle

Shelf

WN-538

Date of Collection

March, 1939

[Source]
Background
Edit
In 1939, Philo Farnsworth was tinkering with some devices in his Wichita, Texas testing grounds when an electrical surge occurred. Appearing from nowhere was, as he described, "A most curious box-like object, mechanical in nature. Clear blue covering shows internal mechanisms. Screen displayed a picture before going blank. Buttons have no response, may require outside power source."
The image left on the screen showed a headline "Birmingham Badger Cull Continues", along with a smaller square displaying some underpants and numbers. This brief flash is what gave the 'artifact' it's name, one it would live with for decades.
1998 was an exciting year for the Warehouse, as the Apple iMac G3 was released and the mystery of the device was solved. Further testing showed the computer to have no actual artifact qualities, though how it manged to travel back in time remains unknown and necessitates it's continued storage.
The second mystery was uncovered in February of 2014, as several counties in Britain, including Birmingham, were in the midst of an uproar over proposed badger culling. The underpants were determined to be a "Calvin Klein" advert from the same date.
Original Info
Edit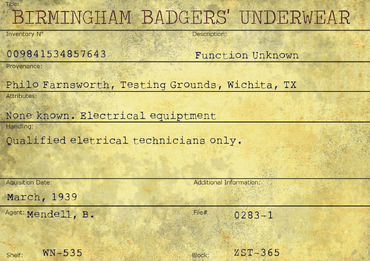 Community content is available under
CC-BY-SA
unless otherwise noted.